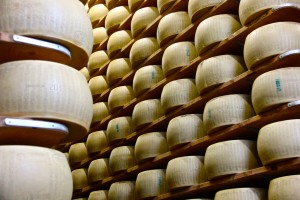 Alessandro Martini was born to inspire people about Italian food. From the moment his Italian Days tour begins www.italiandays.it he oozes enthusiasm about the region of Emilia Romagna and it's artisan food products, waxing lyrical about parmigiano reggiano, balsamic vinegar, prosciutto and organic wine.
It's a very early start to get to the cheese factory in time to witness the 'birth' of the 40 huge rounds they produce each day. The employees have been at work since 3.30am and, unlike us, they don't get to follow up with a copious breakfast tasting complete with local lambrusco.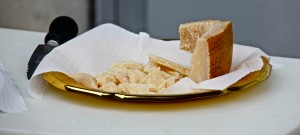 Alessandro cottons onto my enjoyment of  wine paired with 36 month old cheese very quickly and refills my glass and plate long before they are empty. "Do you Australians like wine for breakfast?" asks one curious American. I give this serious question some thought and then reply."Well, it isn't breakfast time in Australia." That's my rationale, but she doesn't look convinced.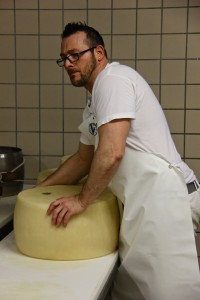 The workers are not at all phased by the fact that we observe them at very close quarters going about their business.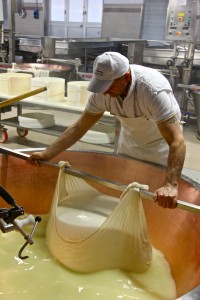 It looks like backbreaking work from where we are standing.
"No need for them to take out a gym membership," quips Alessandro. No indeed. They stir, pull, lift, turn, dip, cut and carry the 40 kg weights of cheese with remarkable ease.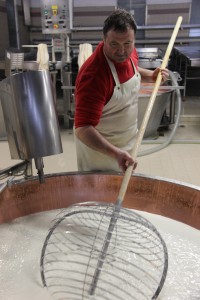 We learn that the controlling process is very precise. Parmigiano Reggiano has a protected designation of origin (PDO) and can only be called thus if it is manufactured in a certain area of Northern Italy. Each wheel must meet strict criteria early in the aging process in order to merit the official seal.  We  take turns at a master grader's  job by tapping the year old  products with a small metal mallet to 'hear' cracks and voids and categorize the rounds into various qualities.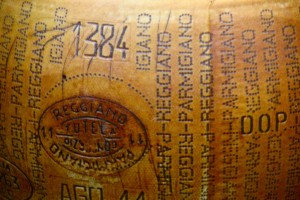 As I am tapping away I am reminded of something I learnt in a history class at school; when the Great Fire of London was looming in 1666, Samuel Pepys dug a hole to bury his treasure of wine and parmesan. The huge cheeses were valuable and often used throughout history as gifts of diplomacy. Henry VIII apparently received one hundred rounds from the Pope in 1511  and in 1556 the Pope made a gift of "eight great rounds" to Queen Mary of England.
I politely ask how many rounds we will each be receiving as a souvenir of this tour. It seems that times have changed and, sadly,  Italians are gifting cheese no more. These days one pays a premium rate for the highly prized product and I leave with a more modest 500gs.
Next stop is Villa San Donnino  www.villasandonnino.it to see how traditional balsamic vinegar is made. This is a much quieter place. The thick syrup resulting from grape reduction  is 'sleeping' in the attic in open barrels for a minimum of 12 but up to 25 years and sometimes more. Originally, a batteria or battery of seven vinegar barrels was set up to celebrate the birth of a daughter in the family. Not surprisingly, Alessandro shows us the battery he set up to mark the birth of his own daughter. None of the product may be used until the 12 years has expired and even then only one litre from each battery may be used in any year. "A job for very patient families," says Alessandro.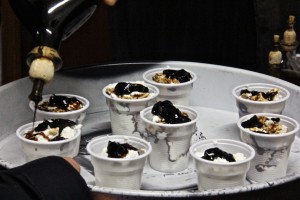 Fortunately we don't need to wait as long for a taste test. I admit to be very surprised at the vast differences in taste, texture and even smell as we are given the entire range of vinegars, from reductions to seriously aged varieties to try on a spoon. Just when we think we have finished, Alessandro and his team produce trays of fresh ricotta cheese and vanilla gelato topped with the perfect condiment. Gelato with balsamico? It's an unusual taste sensation.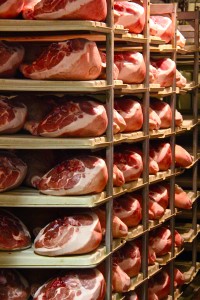 The final factory stop is to see the production of local prosciutto, the well known dry-cured ham from Parma. Once again, special regulations must be adhered to regarding the production areas, the kind of pigs used, their diet (chestnuts and the whey from the making of parmigiano reggiano cheese) and the length of the curing process.
We see the large hind legs being dried, salted and hung in large rooms where they will stay for up to 24 months. "Not a great place if you are a vegetarian" says one tour member, although we don't appear to have any among our number today. Not judging from the way we all dive into the platters of thinly cut, melt in the mouth produce anyway.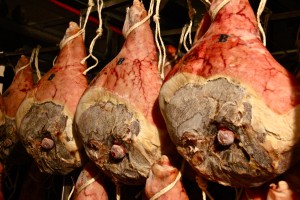 The final stop is for lunch at Corte d'Aibo in the hills outside of Bologna, www.cortedaibo.it a lovely, peaceful place specialising in organic food and wine. The food comes in groaning quantities and is all delicious. After four different kinds of  entree including lasagne al ragu (Bolognese sauce), pasta with wild boar and cloves, pumpkin filled tortellini served with melted butter and sage and pumpkin pies with lard we start to protest. "Come on," encourages Alessandro as he refills the plates, "you are in Italy now, this is a light lunch for us, you need to become food athletes." I don't need much encouragement and am more than happy to go immediately into specialised training after I have undone a button on my trousers. Even I have to admit defeat after the roasted pork with fennel and potatoes and the cherry pies and chocolate brownies with zabaglione cream, although somehow I end up with the left overs to take home with me for "later."
The organic wine is as free flowing as the food and we begin with spumante and pignoletto and continue with several bottles of merlot and cabernet sauvignon. A walnut digestive is the last offering along with a macchiato coffee. Needless to say there are quite a few snores from the back of the van on the way back to Bologna.
This is a great day out for everyone and my friend from Australia thought it was the highlight of her holiday to Italy. Alessandro really goes out of his way to make everything enjoyable and the factory visits are highlights in themselves. Highly recommended! Can't wait to try a truffle tour in the autumn…