Melbourne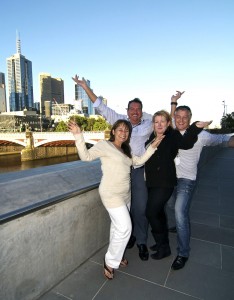 It's difficult to imagine what a Dental Technician, a Bid Manager, an Art History Lecturer, an International Hotel Consultant and an ex Politician turned High School Teacher could possibly have in common.  This diverse group of individuals, and over one hundred more like them, are all volunteers in Opera Australia's current 'Ring Cycle' production at Melbourne's State Theatre. Bound by a common desire to be involved in Wagner's epic work, their motivations are however, interestingly diverse.
Rowan Pollock, 54, was first exposed to Wagner's works via his opera loving Austrian father who came to Australia as a refugee on the ship 'HMT Dunera' at age 18.' "Dad would play the old recordings at home and he could often be heard singing along despite being somewhat tone deaf." Rowan first appeared as an extra with the Victoria State Opera as the result of auditioning as a dare back in 1991, and has since appeared in over 30 operas, juggling productions with running his own dental laboratory. In addition to his own love of being on the stage, he felt the experience of learning more about Wagner's music would be a fitting tribute to his father who passed away three years ago.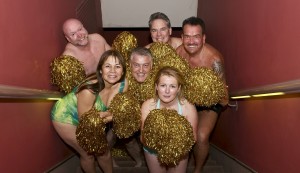 Sophia Errey, 65, took out an Opera Australia subscription when she left full time academic life at the end of 2010. She and a friend  debated "too long" about whether or not to purchase tickets to the four Wagner operas and they sold out within days. But in April this year Sophia attended a concert for subscribers and Lyndon Teraccini, Opera Australia's Artistic Director, alluded to "wanting people" for the project.  "We are watching you," said Teraccini after asking the audience to join in the Brindisi chorus from La Traviata. She was not at all sure that he was serious but was delighted some days later to receive an email setting out the requirements for volunteers. "I took a deep breath and made up my mind that if I was lucky enough to be accepted I would schedule my year around the rehearsal requirements."
Ex Senator turned high school teacher, Julian McGauran, 56, simply "signed up for the sheer fun of it" after hearing about the opportunity from the real estate agent and extra chorus member who was selling his house. He has had several walk-on roles with Opera Australia over the years and finds "the smell of grease paint a powerful allure." He freely admits to never having heard of Wagner's Ring Cycle.  "Unlike some of the other very knowledgeable volunteers," he says with good humour, "I pronounced Wagner with a W."
He wasn't alone when it came to a certain lack of knowledge about Wagner's music. Graham Brown, a 66 year old International Hotel Consultant, had concerns about "putting up with a Wagner opera" and worried the music might be "dark and depressing." After four months of exposure to the operas his fears seem to have been firmly put to rest.  "I am now passionate about many parts of the music, especially some of the Leitmotifs," he says. "It was a case of not wanting to know Wagner to overnight being submerged in all that is the 'Ring'. I even visited the Bayreuth Festspielhaus and Wagner's grave while on holiday in Germany in August. I felt I had to pay my respects."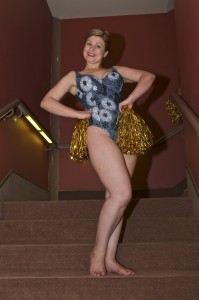 Sarah Somers, a 36 year old Bid Manager with an extensive background in theatre saw the chance to volunteer as "a once in a lifetime opportunity."  Although she is a soprano she says " I know I will never be a Wagnerian. I will never sing a Rheinmaiden or a Brunnhilde so this was a way to be up close to the majesty and magic of this music. This is the first occasion in my lifetime that a Ring production has been undertaken in Melbourne, and it was just not possible to say 'no'." She has earned the appreciation of other volunteers by baking cakes and cookies for each rehearsal. "We sit around when not on stage eating and chatting and, when we can, we watch rehearsals from the auditorium which is fabulous."
The wonder of watching the production develop and seeing the "professionals" in action is another joy this group have in common. "I can't get enough of it," says Sophia, "and I mourn the parts I will never get to see." They are also respectful, if a little surprised at the amount of work involved. "It's an eye opener how much rehearsing and re-rehearsing is actually done," comments Julian. "I watch everyone from the chorus to the dancers to the principles with admiration. So much time and dedication and love is given to perfecting the performances." The work of the backstage team has not gone unnoticed either. "Life backstage is full on," says Rowan." "During the show the mechanists and crew go about their work silently, in darkness, ensuring the smooth transition from one scene to another and the safety of the performers. The public are generally unaware of just how much work goes on behind the walls of the sets."
The highlights of volunteering are obviously many and varied.  Sophia has enjoyed experiencing the "mystique" of life backstage firsthand. "I enjoy waiting in the corridors, the glimpses of performers, and flourishing my backstage pass with bravado." She has also wholeheartedly embraced Wagner's works, voraciously reading libretti and listening to recordings. Julian confirms the thrill he gets from "swiping the pass into the backstage entrance and taking the stairs down into the engine room of the theatre.  I walk the rabbit warren of corridors and pass by the dressing rooms of the stars, making way for them as they appear in their costumes. It's the greatest show on earth." Nor does he mind the dinner party kudos that comes with telling people he is participating in the biggest opera project to ever hit town. "People react with admiration and awe " he proudly says, before cheekily adding that " I fail to add that I don't do any singing unless they really press me."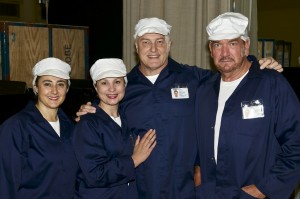 What about the difficulties? The costumes, especially the bathing suits, seem to have posed a problem for many.  One jokingly suggests that patrons don't look too closely with their opera glasses and another describes the challenge of appearing scantily clad in front of so many new acquaintances for the first time, let alone in front of thousands of audience members. For others, theatre etiquette has meant understanding a new set of rules. The "no personal jewellery" rule took one volunteer by surprise. "There are two items of jewellery I never take off," she says, "and I had to work out how to pin the items into my costume to keep them with me." One tells the story of how, at one early rehearsal for Das Rheingold, the group were told to scream and run away from the character Alberich. "Real men don't scream," one gentleman is heard to have responded.  Other gripes are minor as in any workplace: the instant coffee on offer, the noise in the communal dressing room, and fitting the rehearsal schedule into already full and busy lives.
Without exception the volunteers comment on the "inclusiveness" of the experience.  Interested to see if there was an "us and them attitude" Sarah says that the production "could not have been more inclusive. Everyone we have encountered has acknowledged the investment, time and undertaking in the most appreciative manner." Julian agrees stating that "the principles, chorus, stage crew, orchestra and director are a great bunch of polite and generous people. There's nothing high and mighty about them."
With less time now left in front of them than behind them, already this fascinating group are thinking about life "post Ring Cycle." "What to do now?" asks Sophia. "This has qualified as a life changing experience." Rowan eloquently talks about returning to "normal" life.  "This has been the highlight of all my years on stage. I have met so many wonderful people and I fear there might be a feeling of emptiness after this amazing spectacle." Graham concurs, describing the time as "magical." "The camaraderie, the sharing of an experience, the buzz…those that live in this world all the time might find our feelings are a little over the top."  Julian eloquently sums up the volunteer journey by commenting that after six months they have all gelled as a team over an incredible life experience. He paraphrases the great Shakespearian lines by King Henry V. "We will remember what feats we did this day…We happy few, we band of brothers and sisters."
Wagner's Ring Cycle is at the State Theatre of Melbourne until the 13th December, 2013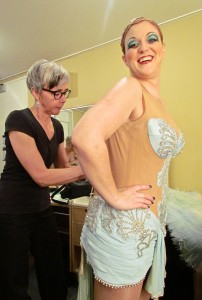 She sashays down the corridor, a sideways glance in the mirror confirming that her spectacularly bejewelled, sequinned costume and feathered headdress is perfectly in place. Two more silver shoed, fish net clad beauties appear alongside immediately conjuring up visions of the Moulin Rouge. But we're not in Paris. And the girls aren't dancers. They're opera singers backstage at the State Theatre in Melbourne, preparing for performances of Wagner's Ring Cycle. It's a snapshot of everyday backstage life most patrons will never see.
In the corner the Woodbird from Siegfried sews halloween costumes and a chorus member in a navy blue laboratory coat scans the internet for news on the Sydney bushfires. A soprano in a gold evening gown is knitting with her feet up. Two dashingly clad gentlemen walk past dressed appropriately for Melbourne Spring Racing Carnival. They are mates, laughing and joking together, but they are also characters in Das Rheingold. In a few minutes time one of them will kill the other on stage in Scene Four.
An announcement over the tannoi requires that I make my way to the wigs and make-up room. It's time to put in my 'zombie' contact lenses for my blind entrance as the Earth Mother Erda. The thick white lenses totally startle my colleagues who are seeing them for the first time.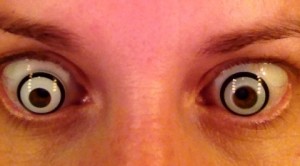 "Oh my God that's really creepy," laughs one nervously. I turn around and someone's baby bursts into tears. Only a beautiful Rheinmaiden can make him smile again. He's young but obviously already aesthetically inclined. Hopefully Wotan won't react the same way on his conjugal visit and Brunnhilde will actually make an appearance in Die Walkuere.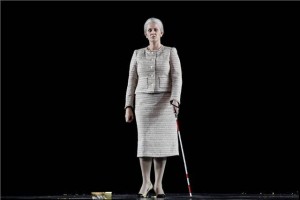 Next day I get to try on my Chanel inspired suit for the first time. I look very sensible in beige tweed and pearl earrings, a cross between Angela Merkel, Maggie Thatcher and a high school head mistress. I try not to be envious of the tiara, diamante jewellery, dainty slippers and frothy wedding dress carefully laid out on my colleague's dressing table, reminding myself that both Angela and Maggie would probably turn up their noses at the concept of such frippery. It's hard not to be totally jealous though when your own props include a blind cane and a wheelchair. Erda's all encompassing knowledge and wisdom should provide some consolation, although by the end of this particular rehearsal even that will be lost. During the following scene the director calls out from the stalls. "Wotan, you are a bit close to Erda. Try taking a step back and see how that looks." The man with whom I have had many on stage children whispers in my ear. "It's the story of my life. I am always getting too close to the ladies."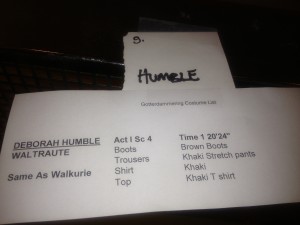 Another day the Valkyries stand side stage while a man from the technical crew inspects our safety harnesses ready for our vertiginous entrance. It's somewhat embarrasisng the first time as we need to pull down our trousers which involves showing him much more than i imagine he wants to see. But he has an important job and one quickly gets used to displaying the day's chosen underwear to a complete stranger. We get onto our swings, clip ourselves on and as we are about to fly away one of the 100 or so volunteers who is dressed like a 1950's housewife approaches me. "Do you remember me Deborah? You taught me singing years ago."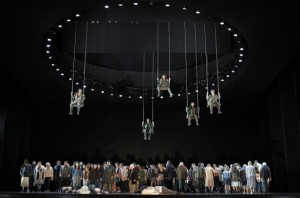 I quip that I can't have done a very good job if she's a volunteer. She replies with good humour "Don't worry, I've got a sensible job." Good point. As we disappear up to our starting positions a Valkyrie colleague sings out "Ho jo to ho, it's off to work we go." The seven dwarves never had a day's work like this I think. The first time up there is pretty scary. It's difficult to see the conductor four stories up and with your eyes squeezed tightly shut. My first line comes out with a vibrato that is, well, rather shaky.
More interesting characters continue to appear throughout the rehearsal process: a trio of seamstresses in German inspired footwear that makes me feel slightly better about my hiking boots. There's a naval officer and someone who looks like they are off to play a game of tennis. Is that a used car salesman I see? Wotan's nagging wife, another lucky mezzo-soprano in beige, appears with a dead animal slung over one shoulder. We console each other over our lack of glamour, happy at least not to be lone members of the beige brigade. An elderly Erda double gives me a view of things to come in about forty years. "Does my bum look big in this?" asks a soprano as she walks past wearing a white velour tracksuit about to do an on stage workout. I can't answer because I am too busy eating the homemade cookies kindly delivered to the dressing rooms by another cast member. At this precise moment a member of wardrobe staff saunters by. "Careful Miss Deborah," he says, "we have enough to do without elasticising your trousers."
Other sights to behold include numerous chorus members and volunteers roaming the corridors in bathing suits with gold streamers stuffed into strategic hiding places (these will later appear as the Rheingold). Brides, bridesmaids and wedding guests are on their way to what appears to be a colourful celebration. Someone appears to be badly injured and covered in fake blood. There's a girl in a fur coat and a couple of men in woollies obviously off on a hunting trip. A one eyed person is off to put on a long, white wig and some dark glasses. Coloured feathers and silver leotards are everywhere as are factory workers in fetching white caps. Side stage it's a veritable zoo and difficult not to get up close and personal with all the animals. There's a Tasmanian tiger, a giraffe, a gazelle, a warthog and many other beasts of burden. Birds hanging from the ceiling look disturbingly lifelike. Grane the horse seems strangely inert there in the dark and I can't help but give her a consoling pat.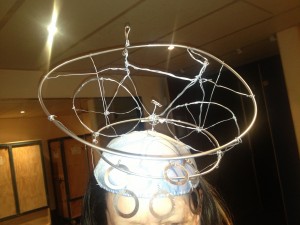 Dressers and wardrobe staff are frantically busy. They make cups of tea, do emergency repairs, collect washing, replace laddered tights and then get into the spirit of things by deciding to have a homemade hat making day in honour of Melbourne Cup. There is a hat featuring pins and needles and my favourite is a bicycle surrounded by a ring made out of metal coathangers. A RIng Cycle. Yes, there can be a lot of waiting around in this saga and it's important to fill in the time backstage. Going to the toilet at least thirty times before and during a performance fills in a bit of time. So does torturing yourself by listening to Christa Ludwig's recording of Waltraute in Die Goetterdaemmerung five minutes before you do it yourself. Writing blogs in the five hour break between appearing onstage and taking a curtain call is another favourite pastime.
Eventually Christmas decorations appear in the wardrobe room. Apparently it's that time of year again although it's hard to tell what's going on in the real world down here in the dark bowels of the theatre. But hey, who needs tinsel, coloured Christmas tree baubles and traditional carols when we have all of this going on?
– All characters are fictional and bear absolutely no resemblance to anyone living
– Official photos by Jeff Busby
– Dominica Matthews (Rheinmaiden) in top photo