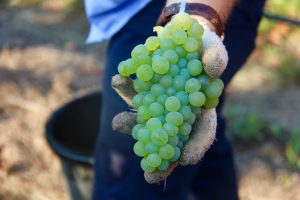 Pecorino, it's not just a cheese…
If you are a cheese lover you will most likely be familiar with pecorino, a kind of cousin to parmigiano; a hard, salty cheese made from sheep's milk. What you may not yet have discovered is that pecorino is also a native Italian grape variety. This pale, small and delicate grape is sweet in flavour due to its high sugar content and has natural acidity. Because of this the grape makes a decently high-alcohol wine, sometimes up to 14%. It's balanced flavour profile leans towards citrus or tropical with a depth of minerality that can run to salty.
Thought to be almost obsolete by the mid-20th Century, the low-yielding, seasonally fickle grape has been plucked from obscurity and has been making something of a renaissance since the 1990's. Its revival is credited to one man, renowned Italian winemaker Guido Cocci Grifoni, who in the 1980's decided to investigate a rumour about some forgotten vines in an overgrown vineyard. He took cuttings from the vines he discovered and eventually grew enough grapes to make wine. Since then, plantings of pecorino have grown enormously and the variety can now be found across Italy in the Marche, Abruzzo, Umbria and Tuscany.
The story behind the name…
'Pecora' is the Italian word for 'sheep' and it has beed said that this sugary grape had sweet appeal to these woolly animals. As the shepherds took their sheep south into the mountains from Abruzzo to Puglia, a journey known as the transumanza, they passed vineyards of ripe fruit along the way. Hungry sheep would stop to snack on the grapes thus giving them the name pecorino. Another version of this sheepish tale tells that the animals ate so many of the farmer's grapes that compensation had to be given them in the form of wedges of pecorino cheese. A tall tale? Who knows, but everyone loves a good story especially when wine is involved!
News Flash!
Pecorino has made its way to Australia and is now being grown at Brycefield Estate Vineyard in the Hunter Valley, New South Wales.
Our story…
Brycefield Estate Homestead and Vineyard is set on approximately 50 acres of gently undulating land in the heart of Lovedale wine country in New South Wales' Hunter Valley. With sweeping views over the Brokenback Ranges, my partner Bruce Caldwell and I first fell in love with this property after inspecting it in 2017.
As we drove drove up the impressive, tree-lined driveway, Bruce turned to me with uncharacteristic decisiveness and proclaimed, 'we're going to buy this place.' And we did buy it, moving in in 2018 with dreams of an idyllic lifestyle full of food, wine, friends and music.
Of course nothing is ever that simple. There was one not so small hitch. Brycefield Estate came with 18 acres of neglected verdelho, semillon and chardonnay vines. These 18 acres would need to be renovated and restored and that was going to be at least a three year project. Bruce, always up for a challenge, declared, 'let's give this a crack!'
Our first step was to find a viticulturist. Bruce employed Liz Riley to advise on the day to day decision making in the vineyard. Liz came to us with a plethora of experience and a string of awards behind her, including being named Viticulturist Of The Year and this year receiving a Hunter Valley Legend Award For Excellence.
Discussing the future of the vineyard together on a hot 38 degree day, Liz asked Bruce if he would like to replant the three acres of dead verdelho vines. Not being a huge fan of verdelho wine and inspired by the very hot temperatures we were experiencing, Bruce thought to ask about what kind of warm climate varieties might do well in Lovedale. Vermentino was discussed before it was discovered that Chalmers Vine Nursery in South Australia had some pecorino cuttings that had just completed a three year quarantine period.
I was familiar with pecorino wines from my time living in Italy and had really enjoyed them, finding them more flavoursome and complex than other European white varieties. Further research told us this variety was thick-skinned and disease resistant and Bruce decided it sounded perfect. 2700 pecorino vines were planted at Brycefield Estate in September of 2018 followed by another 300 twelve months later, making a total of 3000 vines.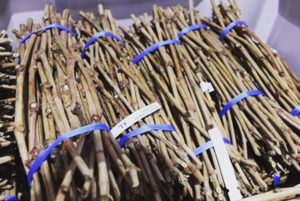 The pecorino rootlings before they were planted…
Bruce treated these rootlings as if they were his babies. He regularly checked each and every spindly 'stick', encouraging them to grow up to the fruiting wire. We were quite incredulous when they all turned into productive, healthy vines.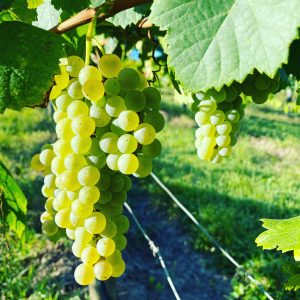 Bunches of compact pecorino grapes on the vine at Brycefield. Bunches are cylindric and elongated with a protruding wing, almost like a second cluster. When they are more mature the thick skin makes them suitable for machine picking.
The first vintage…
Just before Australia Day in January 2021the first grapes were deemed ready for harvest.
A Diva handpicking grapes for the first time. Singing is easier!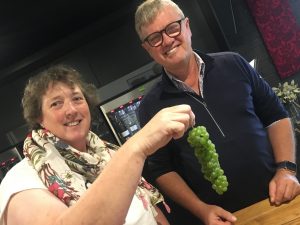 Liz and Bruce with a sample of the pecorino grapes…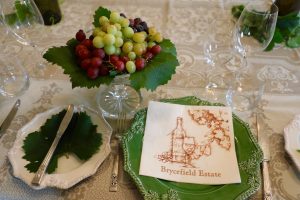 End of January Harvest Lunch…
Just over two tonnes were handpicked and sold to The Little Wine Company, a local company specialising in small parcels of grapes and unusual varieties. Winemaker Suzanne Little turned the grapes into one of Australia's first pecorino wines and it was bottled and labelled.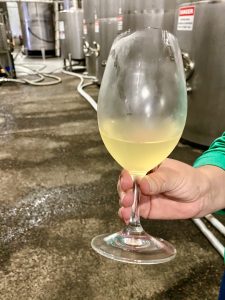 Tasting the must…
We took back 500 bottles to sell under our own label with the rest being sold under The Little Wine Company label. We named our first pecorino 'Il Dottore', Italian for The Doctor, to reflect Bruce's dedication to growing this new variety and to reflect our general belief that wine can cure almost all ills! The wine has been described as having a 'delicious, crisp, crunchy palate with delicate pear and pink lady apple flavours.' We wait expectantly to see how it performs at the NSW and Hunter Valley Wine Shows later this year.
The label design…
Bruce designed a label with the help of our neighbour and graphic designer Sally Sneddon from Allendale Winery. The insignia, which will also be featured on the 'Il Primo' semillon and 'Diva' chardonnay wines, features the medical symbol of two snakes winding around a winged staff superimposed on a winged helmet. The winged helmet is a common symbol in romantic illustrations of legendary Norse gods and heroes and commonly associated with the Wagnerian opera singer. The design represents not only our differing professions but our partnership and joint commitment to our vineyard dream.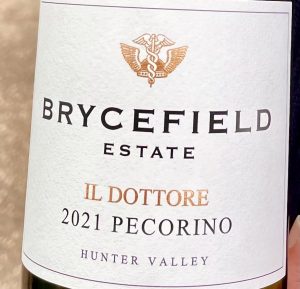 The future…
The vineyard is now fully renovated and we picked over 40 tonnes of grapes in 2021. New fiano vines, another Italian white variety, have recently been planted. The application for our liquor license is underway and our 2021 wine will be available on our new website by the end of the year. We look forward to expanding production in 2022. We expect to harvest up to six tonnes of pecorino and produce all of this special variety under our own label.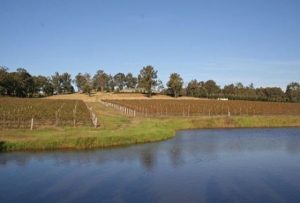 Here's a link to a short article in the Newcastle Herald
https://www.newcastleherald.com.au/story/7147196/hunter-producers-set-stage-for-pecorino-premiere/
Keen to compare and contrast?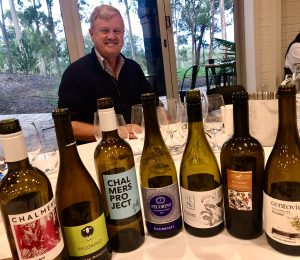 Here are some pecorino wines we have tried you might be able to find in a good bottle shop.
2020 Chalmers Pecorino, Heathcote, Victoria, $31
2019 Illuminati Pecorino, Abruzzo, Italy, $19
2019 Umani Ronchi Vellodoro, Abruzzo, Italy, $30
2018 Chalmers Pecorino, Mildura, Victoria, $25
2018 Pemo Pecorino, Abruzzo, Italy $15
2018 Tenuta Ulisse Pecorino, Abruzzo, Italy, $36
2017 Umani Ronchi Centvie, Abruzzo, Italy, $50