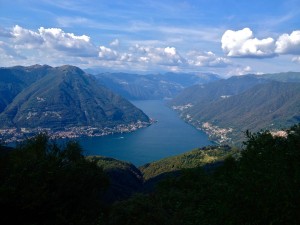 I have often found it difficult as an opera singer to find colleagues who share my love of sport and the great outdoors. Lovers of food and wine, no problem. Lovers of music and culture, of course. Lovers of carrying back backs and sleeping in mountain huts, somewhat more difficult. So Imagine my delight when I am introduced to an American opera singer who agrees to undertake a two day hike with me from Brunate to Bellagio.
We agree to set out on Ferragosto, August 15th, an Italian holiday originally celebrating the festivities of Roman Emperor Augustus. There are long queues for the funicular ride up to Brunate from Como as families seek the cooler mountain air or go to the restaurants for an extended, festive lunch. The path we are going to follow begins at the top of the ride and we quickly climb up to the pretty square of San Maurizio. It's a hot day and the gelato man in his mobile shop is doing a roaring trade. I ask my companion, only half joking, if it's already time to stop for an ice cream. But we continue up through welcomingly shaded woods, quickly leaving behind the holiday strollers with children and dogs and meeting from then on only the "serious" hikers; the ones with sticks, boots, maps, determined expressions and an overnight destination to get to. Three hours later we stop at a junction for a rest. We strike up a friendly chat with a guy named Roberto and his group.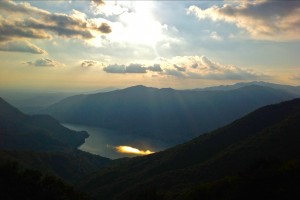 He asks us where we're headed and we tell him the Rifugio Riella. "That's great," he says. " We all stayed there last night. Fantastic food. They roasted a pig. It was sensational." Our mouths start watering. We are starving and still an hour away. Roberto leads his group off down the path then turns back and adds as an afterthought "but we didn't leave any for you!!" Ha ha ha….we laugh along with him. Hiking humour. But the thought of dinner means we cover the next four kilometres surprisingly quickly.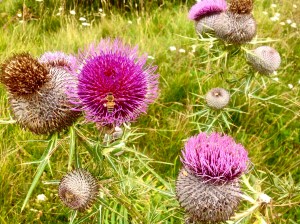 We arrive at the Rifugio Riella hot and tired and feel like we may as well just have just checked in to a five star resort. Even the cold water showers are bliss. Set high above Lake Como with uninterrupted views we drink plastic cups of local wine for the next hour and have dress circle seats for a truly spectacular sunset. I don't know if I believe in heaven. But if I did I imagine it would look like the sky did at that moment. And there's the added bonus of not having any mobile phone reception which helps contribute to my own idea of paradise. Roberto wasn't joking when he said there was no pig left but it is difficult to be disappointed with what arrives at the dinner table. We dive into baskets of fresh bread with big, fat green olives and a platter of cured meats.
This is followed with a heaving dish of the area's famed polenta with butter, cheese and sage accompanied by a sausage casserole and a beef stew. After massive slices of home made apple cake we are offered a myrtillo digestive. We are full but feel like we've earned it. We are asleep in our bunk beds by 9.30.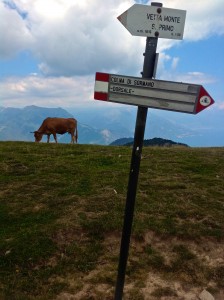 After breakfast next morning we set off following the "dorsale" track number 1. This turns out to be more challenging than we anticipate. Within forty five minutes we are confused. The sign posting is dreadful. We try a few different paths and decide they can't be the right ones. A young French couple who appear to have spent the night in a tent on the track study our map with us over coffee and chocolate biscuits. It sets the tone for the day. At every junction there are hikers standing around chatting in their native tongues about which is the correct path. So, not just a physical challenge but a navigational one too. One wrong turn turns out to be a bonus. We 'accidentally' climb the crest of the mountain which affords us fantastic views of Bellagio in the distance and the sparkling waters of the lake. Friendly cows wander around with their huge neck bells clanging. Just like Switzerland. Also like Switzerland are the strategically placed mountain huts catering to walkers . Cute little places with a scattering of tables with red and white checked cloths they seem to appear just when you want them to. You are offered a glass of restorative wine for fifty cents and a home made hot dish for a couple of Euros, all accompanied by divine panoramic views. You are then sent on your way with a smile and a "buon continuazione". Very civilized.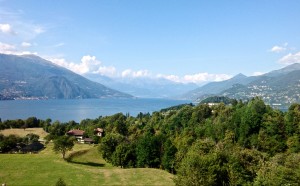 Just down the hill I slip on the scree and take a tumble. I land on my back with my heavy pack preventing me from getting up again without assistance. I feel like a stranded turtle and can't stop laughing once I assertain that only my pride is wounded. Maybe the fifty cent wine wasn't such a good idea! We can see our destination all afternoon but we never seem to arrive . The last two hours take forever. The descent is steep and requires concentration. You know you're over it when the conversation stops and you focus solely on putting one foot in front of the other. We come across a natural spring and my friend practically dives in. I stand there and watch. I imagine doing the same thing but that requires extra steps and I am incapable.
Later that night I am eating a huge bowl of pasta in a local restaurant when the friendly waiter tries to take the plate away before I'm finished. I practically snatch the plate back and tell him I am hungry because I have just walked thirty five kilometres from Como.
He sweetly thinks I have confused the verbs camminare (to walk) with guidare (to drive). I tell him no, I didn't drive here, I walked. He turns to his colleague and passes on this information which causes much mirth. Even the chef comes out of the kitchen for a good laugh. They put their forefingers to their right temples in a gesture which makes it very clear they think I am a crazy foreigner. Then, because they obviously feel sorry for me, they bring me a complimentary glass of wine.
As I leave after dinner the same waiter asks me how I plan to return to Como tomorrow. I tell him, with a perfectly straight face and anticipating a further free glass of wine, that I am going to swim.