Carbohydrate. It's the kind of word that causes the weight conscious to break into a fearful sweat.  Banned from popular diets around the world a carb-free existence banishes rice, potatoes, bread, pasta, pastries, pizza and, horror of horrors, wine.  Trust me, I know. I am familiar with the programmes of best selling authors Mr Dukan and Mr Atkins and have successfully followed their diets (except for the wine part). I doubt very much however that either of these men are collecting many royalties from book sales down here in the carbohydrate saturated heel of Italy. Attempts to explain to waiters that "I don't eat bread," or "I'd like my meat without potatoes" are met with either pitifully bemused  looks or those of contempt and confusion.  I decide to go with the "when in Rome" theory and do what the Puglians do when in Puglia.
Known as the 'breadbasket of Italy' this region's culinary buzz phrase of the moment is 'cucina povera,' or 'poor cuisine,' a concept coined by the use of the simplest, freshest ingredients grown locally and produced by traditional methods. Puglia produces more than 80 percent of the country's pasta. Semolina is the main ingredient in the famous 'orecchiette' or 'little ear' pasta.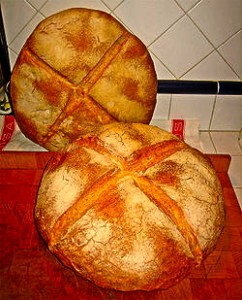 I saw women in the old part of Bari hand rolling this egg-free pasta in the streets, painstakingly shaping each tiny round to perfection with a knife so that the uniform size will allow even cooking. It is served in a variety of ways but very often with turnip tops, creamy ricotta cheese or blood red fresh tomato passata. Taralli, a cross between a bread and a biscuit, look like little dough circles and make a regular appearance at tables in Bari and beyond. Fennel seeds and chilli can be added to vary the flavour and sweet varieties also abound. They are served in tiny baskets as an accompaniment to the evening apperitivo  or as an addition to the main meal. They are quite addictive, To start means not being able to stop.
In Altamura, the first town in Puglia to receive a DOC (Protected Designation of Origin) for it's famous dough, one is welcomed with a roadside sign that simply says "City of Bread." When McDonalds famously tried to open a store there some years ago one town resident was quoted as saying "We are fighting a war. Our bullets are focaccia. And bread." Needless to say that in a region so intent on fighting for the pride and reputation of it's local food and produce, the chain store did not, thankfully, survive. In the much smaller towns of Puglia communal bread ovens are still in use. Women share the tradition of bread baking over the town gossip with their children playing at their feet.
Another specialty regional dish is fava bean puree. Fava or broad beans are traditionally sown on November 2nd, known as All Saint's Day.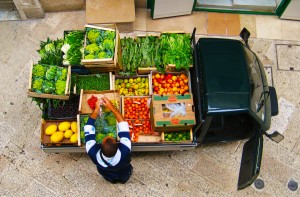 After harvest very small cakes called 'fava dei morti' or 'beans of the dead' are hand made to celebrate. The fava bean puree is served with a side dish of bitter dandelion greens sauteed in olive oil, with a basket of crostini for dipping or stirred through risotto for a double carbohydrate blast. On one occasion mine appeared sprinkled with ruby red pomegranate seeds giving the dish a glossy finish and a rather North African flavour.
The humble potato is a Puglian staple. It appears regularly at the table in different forms: sliced paper thin as a topping for pizza, roasted in olive oil and served with black olives and tiny red tomatoes as an accompaniment to fish or lamb, or as the basis of a dish called tiedda along with rice and mussels. Eaten either hot or cold this  dish gets it's name from the pot in which it is cooked. I have seen Italians at the beach or in the park eating tiedda with big spoons straight from the dish, picnic style.
And a few facts about the region's wine. Puglia produces more wine than anywhere else in Italy.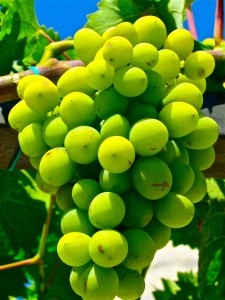 More wine than all of Germany. That means temptation. The constantly mild climate here allows the grapes to ripen all year round and as a result they have a very high sugar content. The well established primitivo is my personal favourite possibly because the grape is genetically linked to the Californian zinfandel varietal and therefore familiar to my Australian tastebuds (it has nothing at all  to do with the high alcohol content of course!)  But to be really honest the facts don't seem to matter much. At the end of a long, hot summer's day a glass of crisp, cool wine of any variety is just the thing. I love the way you are encouraged to drink it before it gets too warm. Not to worry though if you can't manage as the waiters will often come and tip what you have left into a freshly chilled glass.
It is tempting to keep writing; about the fresh seafood that the fishermen deliver in their little blue boats to the harbour every morning, about the abundance of colourful vegetables sold off the back of tiny vehicles that can navigate the traffic free alleyways, about the 65 million olive trees that produce the golden oil sitting on every table at every restaurant in the region.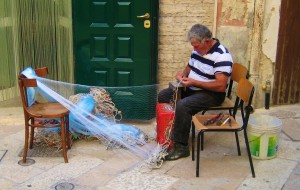 But there is a goat roasting on a spit in the nearby trattoria and a group of friends wait to begin eating. I am lured away by the smell of the potatoes roasting, the freshly baked bread, the pasta cooking to al dente perfection. And that is just for starters. After dinner we search out the town's best gelato and I indulge in a calorific  millafoglio. The custard inside is the best I have ever tasted. I ask for the recipe. "Signora," she says, "I can't give away the in house secrets." Ah well. It's probably for the best.
Yes, all things considered it's a carbohydrate nightmare. But it's also the stuff  my dreams are made of.
** After making this post I received a comment from a friend in Bari and she kindly offered me the 'official' recipe for tiedda. She says "this dish is a Barese identification sign more important than the national flag. It's worth trying!"
Ingredients for 4 people: 250 grams of white rice, 1.5 kilos of potatoes, 500 grams of mussels (fresh not frozen), bunch of parsley, 1 garlic, 1 onion, 70 grams of grated pecorino cheese, 300 grams of small red tomatoes (canned or tinned is forbidden!), 6 spoons of extra virgin olive oil, salt, pepper. A ceramic tiedda is best for the dish.
Preparation and cooking: Scrub the mussels so the surface is cleared of beard. Open them using a knife and keep the flesh inside one of the shell halves. Wash and cut the potatoes into thin rounds. Take the garlic and chop finely. Wash, skin and deseed the tomatoes and cut them into round slices. Wash the rice.
Preheat the oven to 180 degrees.Take your tiedda and cover base with olive oil (not too much). Cut the onion into rings and cover the base of dish. Add chopped garlic and parsley, half of the tomato pieces and a handful of grated pecorino cheese. Layer the potatoe slices over the top. Flavour with salt and pepper. Layer the mussels over the potatoes and cover with rice. Add any leftover garlic and parsley and a second layer of tomatoes and potatoes. Season with more salt and pepper and add a drizzle of olive oil. Cook for 40 minutes or until the rice and potatoes are cooked through.
Many thanks to Emanuela Desy for this recipe. She suggests serving it with a crisp white wine. Buon appetito!