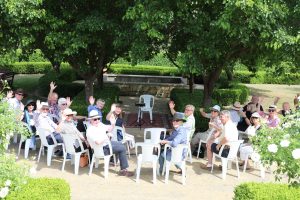 Brycefield Estate is one of the Hunter Valley's most recognisable properties. Described as 'standing proud in it's commanding position overlooking Pokolbin, Lovedale and the Brokeback Ranges,' our home is set on approximately fifty acres of elevated, gently rolling wine country. When my partner Dr Bruce Caldwell and I purchased the house in 2018, we knew at once that the beautiful landscaped gardens and the backdrop of eighteen acres of vineyards would provide the perfect location for some of the things we envisaged. We imagined creating a real sense of place and belonging in the Hunter Valley; friends, colleagues, neighbours and the wider community coming together. Music, food and wine were the constantly recurring themes in our discussions.
Never did I think for one moment that the first Brycefield Estate Music Festival would be born out of a global pandemic.
As a professional opera singer, I had an entire year's worth of local and international engagements cancelled in the first months of 2020. I was extremely empathetic to the plight of others in the industry. When restrictions eased in regional Australia mid-year, I was, like my colleagues worldwide, desperately missing music making. Bruce and I decided we could open our home to help fill some of the musical void, and invite local musicians to find their artistic voices once again.
The first festival was held over an extended weekend in October, 2020, under the shadow of COVID-19 restrictions. With only twenty visitors allowed in a private home, not including the performing artists, we implemented a COVID safe plan and organised four different events featuring fourteen artists, all of whom were delighted to return to performing. The pandemic had prevented us all from connecting with each other through live music. Our existence had been disrupted more than we ever could have imagined. The weekend at Brycefield gave us a chance to process and compare our experiences with others, and the simple joy of coming together to support art and artists was immediately clear. It turned into a hugely successful and at time, emotional long weekend.
We were entertained by well-known cabaret artist Mark Trevorrow (aka Bob Downe) and pianist Bev Kennedy who made us laugh and cry during their very clever show called 'Singing Straight.' Popular Newcastle jazz duo Terence Koo (keyboard) and Heather Price (bass) performed in the Brycefield 'jazz lounge" as audience members enjoyed supper plates and wine from local producer Allendale.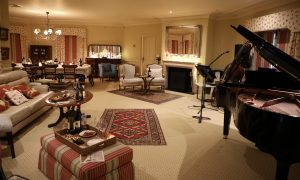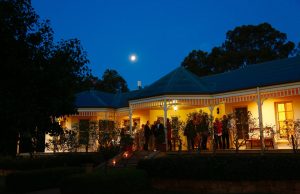 One of Australia's finest guitarists, Andrew Blanch, gave a Latin inspired concert in the garden. He also joined the Newcastle Camerata for a performance of Vivaldi's Lute Concerto in D Major. The Camerata presented a sensational programme featuring local composer David Banney's Taking Flight. This world premiere received a spontaneous standing ovation.
One of the undisputed highlights of the day was the lunchtime picnic in the gardens. In the shade of four leafy Manchurian Pear trees and flanked by ornamental hedging and white rose bushes, guests set out their baskets laden with food and wine on the provided tables and chairs. This break provided a lovely opportunity to speak with the guest artists and meet other audience members. Andrew generously signed copies of his new ABC album Alchemy, also featuring guitarist Ariel Nurhadi.
As the sun set over the distant ranges, three singers (Jill Sullivan, Genevieve Dickson and Sarah Dockrill) presented a Song Recital featuring works by Grieg, Brahms and Schumann accompanied by pianists Claire Howard Race and Ross Fiddes.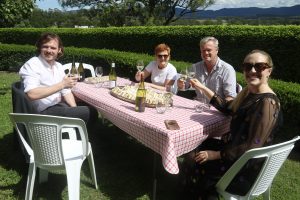 Spurred on by the overwhelming and enthusiastic feedback, I was inspired to organise the second festival in March 2021, this time without number restrictions. Andrew Blanch, who had recently been included in Limelight's '30 Under 30″ list, returned to perform by popular demand, this time collaborating with the engaging harpist Emily Grainger, previously Principal Harpist with the Chicago Symphony Orchestra. Andrew and Emily performed a beautiful programme of rarely heard works including Maximo Diego Pujol's Suite Magica, the Danzas Espanolas by Granados, Ravel's famous Pavane for a Dead Princess and a newly commissioned work by Brazilian composer Marco Pereira. After their recital these two highly engaging personalities took the time to talk about their respective instruments and some lucky audience members got to try out their musical skills!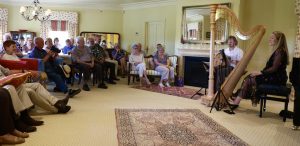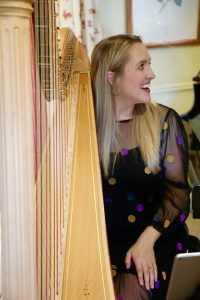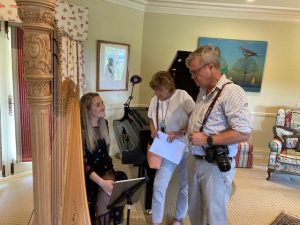 Popular flutist Jane Rutter gave a French inspired recital on six different instruments (including an 1887 Louis Lot, the Stradivarius of the flute), featuring works by Fauré, Debussy, Chopin and Poulenc. Accompanied by John Martin, she transported the audience straight to Paris. She cleverly interwove her performance with personal stories and anecdotes which really helped her connect with the audience.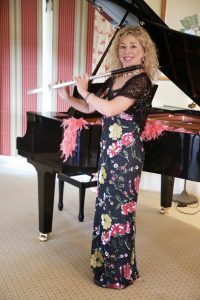 Amazingly versatile Mezzo-Soprano Jacqui Dark presented her thrilling cabaret show which featured the works of Jacques Brel. Accompanied by the extraordinarily talented pianist Daryl Wallis, she took us all on an emotionally charged roller coaster ride. Some musical levity was given by Newcastle quartet Sax Blu who performed on different saxophones. It was en evening I will not quickly forget.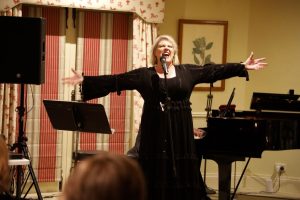 The grand finale of the second festival took place at Lillino's Restaurant at St Clement's Winery in the form of an Opera Gala degustation lunch with matching wines. Hosted by owner Luigi Pinna, guests gathered for pre lunch drinks and canapés on the verandah of the winery before moving inside to hear a quartet of singers (Catherine Bouchièr, Matthew Reardon, Teddy Tahu Rhodes and Deborah Humble) perform operatic and musical theatre favourites accompanied by Sharolyn Kimmorley. The event sold out in just three days and was a hit with festival patrons and locals alike.
It is my hope that this festival in the Hunter Valley will continue to expand and attract world class Australian musicians.
Bruce and I have been working with local architect Karen Shearer on the design of a larger performance space outside, complete with roof and lighting, bathrooms, change rooms and storage space for musicians and their instruments. It won't be finished by the March 2022 festival, but do stay tuned for developments. Our liquor license is also being processed and you will be able to try and purchase Brycefield Estate Pecorino, Semillon and Chardonnay at future events.
We can't think of a better way to be involved in the community than by offering a connection through music, food and wine; helping to foster the formation of bonds and friendships which might otherwise not be possible.
Thank you for your support.
The next Brycefield Estate Music Festival will take place on March 25th-27th, 2022.
Artists will include concert pianist Shamray Konstantin, marimba player Adam Jeffrey in recital with guitarist Andrew Blanch, Principal Clarinetist of the Sydney Symphony Orchestra Francesco Celata in recital with Sharolyn Kimmorley, singers Julie Lea Goodwin (soprano) and Deborah Humble (Mezzo-Soprano) and some surprises along the way.
If you would like to sponsor an artist or a concert, or if you would like further details about tickets please e-mail me at deborah@deborahhumble.com