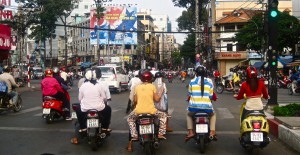 Sensory overload. The sights, smells and sounds of Saigon assault you the moment you leave the haven of the airport. It is immediate and somewhat overwhelming. But amazing and exciting too. My first thought is simply "traffic." Traffic like I have never seen it anywhere else in the world. Motor cycles, millions of them, weave in and out of the trucks, cars, vans and other less conventional modes of transport.  The Lonely Planet guide I am clutching and praying over like a bible in the back seat of the taxi calls it "a carefully choreographed ballet of chaos."  It's a very apt description. Entire families seem to fit precariously on one small scooter along with their chickens and other livestock. The rules of engagement are not immediately obvious but my taxi driver has clearly played this game before and I arrive at my hotel in one piece. I sigh with relief and face the next challenge; crossing the road. An obvious break in the flow of traffic never arrives.
After twenty minutes of watching to see what everyone else does I shut my eyes, step off the curb and march blindly to the other side, hoping against hope that I actually have nine lives. But it's like magic really. It's as if I have the power to part the Red Sea. The throng just moves right around me as if  I am not even there. Who knew the mere act of crossing a street could be so exciting? The cacophany of horns, the vibrancy and vitality of the streets is hugely energising and I feel the jet lag draining away. I decide to repeat the exercise and cross again to the other side, just to see if I can. It's the beginning of a little game I play for the next seven days, luckily for me without the need to see if my travel insurance is as comprehensive as I think it is.
The following morning I take a bicycle ride to the Tan Binh markets. I always think local markets are some of the best places for a perfect snapshot of real life.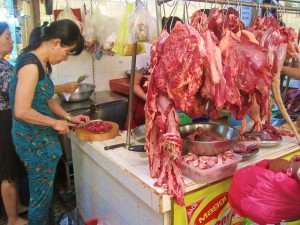 They don't disappoint and there is a lot to take in. I take photos of the brightly coloured fruits and vegetables I have never seen before, sniff delightedly at baskets of exotic herbs and spices, give the boxes of still slithering snakes slit right up the middle a wide berth and try not to tread on the half dead fish flapping around on the concrete floor. Scales, insides and bits of carcass are being hosed into drains. I vow never to wear open shoes to another Asian market. I catch sight of what can only be a dog boiling away in a pot and feel the sudden urge to contribute to the mess on the floor. The line up of skinned rats hanging by their tails from the ceiling puts an end to my market morning and I head outside to get some air. At lunch time I head for the nearest vegetarian stall.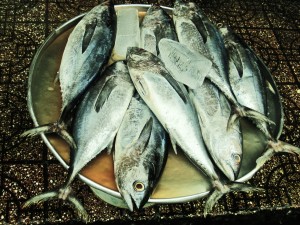 My stomach has recovered enough to attend the Saigon Cooking School the next day where the ingredients look somewhat more conventional and I happily learn to prepare fried spring rolls, lotus stem salad with shrimps and the famous and delectable beef soup known as Pho Bo.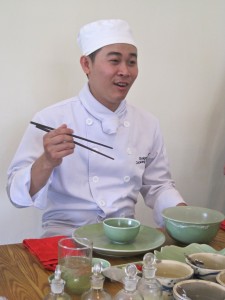 We finish with the smiling chef Hoa Tuc teaching us to carve vegetable flowers out of chillies, tomatoes and carrots. When complete mine don't look anything like flowers and my fingers are carved up more than the vegetables, but he encouragingly informs me that practice makes perfect.
The food theme continues over the next two days as I head out to some floating markets on the mighty Mekong River. It is such a busy place it is difficult to know where to look. The clothes of the locals are as vibrant and diverse as the food on offer; colourful polka dots blending with florals and stripes and always complemented by the iconic and conical Non La hat.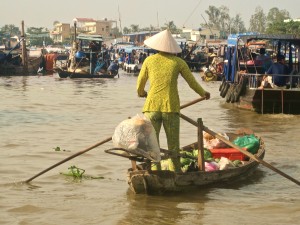 I feel like I am in photographer's paradise but remind myself it is sometimes better to look at life with the naked eye. I climb onboard a boat where a man skilfully carves up a pineapple with what appears to be a small machete before proudly adding a small stick and presenting me with a pineapple 'lollypop.' My delicious snack is worth ten cents. Another boat floats by and I see two women, heads bent together, counting the morning's cash takings. I hope they have had a productive day. I am approached by a Vietnamese, English speaking guide who offers to show me around on shore. He has had an extraordinary life. Working for the Americans as a translator during the war he was then convicted as a traitor and jailed for fifteen years. Now forbidden to apply for work in his own country he makes an unofficial living from guiding tourists. I tell him I am more interested in his story than anything else and we enjoy an hour or so together over green tea. His eyes are as wide as saucers when I explain the concept of medical insurance and coverage in Australia. This highly intelligent man tells me that if he broke a leg he would wrap the limb between two splints and return to his village for his recovery. During that eight weeks or so of not earning any money he would most likely die of infection or hunger. "Good idea to stay healthy here," he finishes with a smile as he shakes my hand.
On the way back to the city I visit the Cao Dai Temple outside of Tay Ninh and observe one of the four daily chanting services. Like most things I have witnessed here in South Vietnam it is a place full of colourful sights and extraordinary sounds.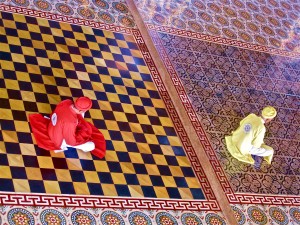 A traditional orchestra of ten join the twenty or so choral voices in worship and the priests' robes of white, blue, yellow or red make a stark contrast with the elaborately tiled floors, sky blue ceiling and intricately decorated columns.   The divine "eye of God" seems to be keeping a very close watch over all my movements and I silently ask whichever God my guiding friend believes in to grant him the gift of perpetual good health.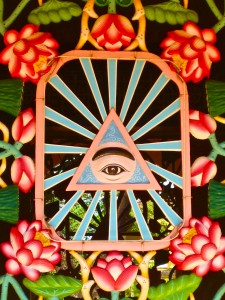 Back in Saigon I have a final walk around the city and stop to admire the Opera House and it's French Colonial architecture. Surrounded by wide, tree-lined boulevards I could almost believe that I am back in Paris and the thought serves as another reminder of the turbulent and varied history of this amazing city and it's inhabitants. It is certainly a place I would like to come back to one day. When I leave this time I take with me the impression of an unbelievably colourful, vibrant city in motion. A city that seems to be full of the most friendly, endlessly smiling and welcoming people I have ever met.
For more images see "Snapshots of South Vietnam" on this site.